'Share This' but make it good.
---
Sharing is for scale, not virality
As new studies from share this show, sharing is now accounting for 10% of all internet traffic. It is big but then there is no surprise there. The graphic shows that the vast majority of sharing is done via Facebook, again, no surprises here either. BUT with only 4.9 clicks per shared link, it is not a viral as you thought. Links are less likely clicked outside of the users' immediate network so think about large groups of people. 80% of people only share one category of content (business, politics, entertainment etc), this suggests people are influential on limited topics that are important enough to them.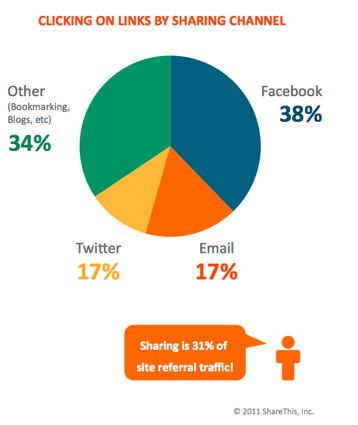 The motivation needed to push your customers to click the button is down to the content you provide them with. Some great suggestions from Dan Bosomworth @SmartInsights are below
It's not about the tools – though tools like ShareThis, AddThis and the big enterprise software Gigya are all extremely important for success, so make sure they're contained on web pages and emails and then focus on content
The content has to be great – there is no such thing as a "great viral", viral is the effect of brilliant content – entertaining, valuable, insightful or newsworthy
Solve problems – buyers (B2C and B2B) are doing more research than ever online – recognise their needs over your need to 'go viral', help them make decisions relating to your product
Entertain – we all enjoy a laugh now and then, think about inspiring, educating and entertaining where you can
May favourite blog is BikeSnobNYC, not much to do with cycling but funny and if he told me to put my hand in the fire, I would probably give it a go!